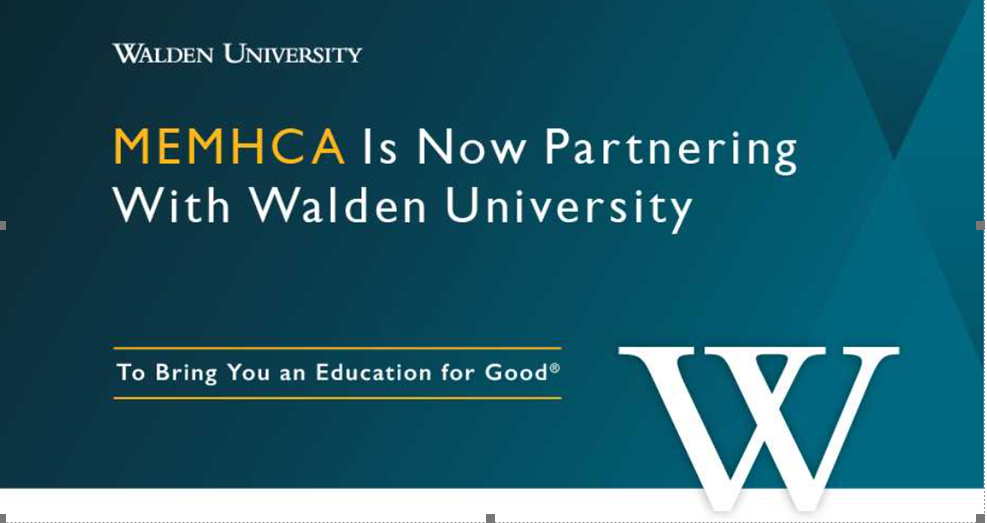 Explore your path to advancement and receive special tuition savings
Become an expert in counseling and explore opportunities to further your career with Walden University. By partnering with Walden, a degree that can move your life forward is within reach. As a member of MEMHCA, you may be eligible to receive a 10% tuition reduction when you advance your education now with Walden.*
Members Click here to access this members only benefit!
Interested in becoming a member? Click here!

Experience the Walden Difference:
Over 50 years of educating adult learners for meaningful careers
#1 in conferring graduate degrees in multiple disciplines to African American students1
Gain hands on skills with Skills Labs and Theravue, which uses virtual-simulation videos to sharpen your skills in client interviews
Multiple start dates to fit your schedule
A global professional network of change-making alumni and fellow students
Walden's MS in Clinical Mental Health Counseling, MS in School Counseling, and PhD in Counselor Education and Supervision programs are accredited by the Council for Accreditation of Counseling and Related Educational Programs (CACREP), a specialized accrediting body recognized by the Council for Higher Education Accreditation (CHEA).
Members of MEMHCA can receive a 10% tuition reduction* plus the following grants:
$5,000 grant towards the PhD in Counselor Education and Supervision program

*A 10% tuition reduction is available to eligible members of MEMHCA. Tuition reductions are applicable to tuition only and do not apply toward books, materials, and other supplies or fees needed for a course.
This offer cannot be used in combination with any other tuition reduction benefit, unless otherwise noted. The tuition reduction will not be applied to any past due balance or outstanding bills or charges a student have with Walden University. The tuition reduction is a non-transferrable "non-cash" offer, and in no event will the recipient receive a check or other disbursement of money pursuant to this tuition reduction. No tuition reduction will be made retroactively. All tuition reductions, grants, scholarships, and vouchers are subject to specific eligibility requirements. Walden may change this tuition reduction offer at any time, but such change will not affect the tuition reduction for students who are currently enrolled at Walden and using it.
This tuition reduction and/or grant is not a promise of preferential treatment of Walden students in hiring or a guarantee of employment at any entity.